This event has already occurred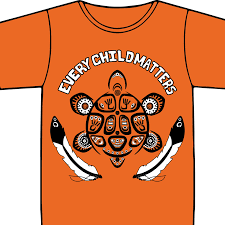 Save to your Calendar
Everything you need to know about Orange Shirt Day!
What is it all about?
Orange Shirt Day is to commemorate the many Indigenous children who were removed from their homes and communities to be placed in residential schools throughout Canada. To find out more about the origins of this day, it's purpose and how communities are acknowledging it, go to http://www.orangeshirtday.org/
What are we doing?
We are joining in with the community at St. Paul's in Uxbridge and others. The people of Ascension are encouraged to go to church on Sunday September 29th at 10:30 am at St. Paul's (59 Toronto St. South, Uxbridge). The Most Reverend Mark MacDonald, National Indigenous Anglican Bishop to Canada, will be presiding and preaching. After the church service, many community events follow.
Lunch
The lunch is being held at Trinity United Church in Uxbridge (20 1st Avenue, Uxbridge). Cost is $15 per person and includes a delicious hot macaroni casserole with vegetables and beef, salad, apple upside down cake and coffee/tea. There is a plain mac and cheese for those who don't eat beef.

Each church, including Ascension, has been assigned a limit of 30 tickets for the lunch. Therefore it is anticipated that the tickets will go quickly!
Tickets will be available (those that are left) at the church on Sunday this week and next. Money for tickets will be due by Sunday September 15th. Cash to Kathy Sweet, please. If you don't get a ticket, there are lots of eateries in Uxbridge to choose from.
Afternoon program
There will be lots of dancing, drumming, singing and general festivities. This is free, so please invite family, friends and neighbours to join in.