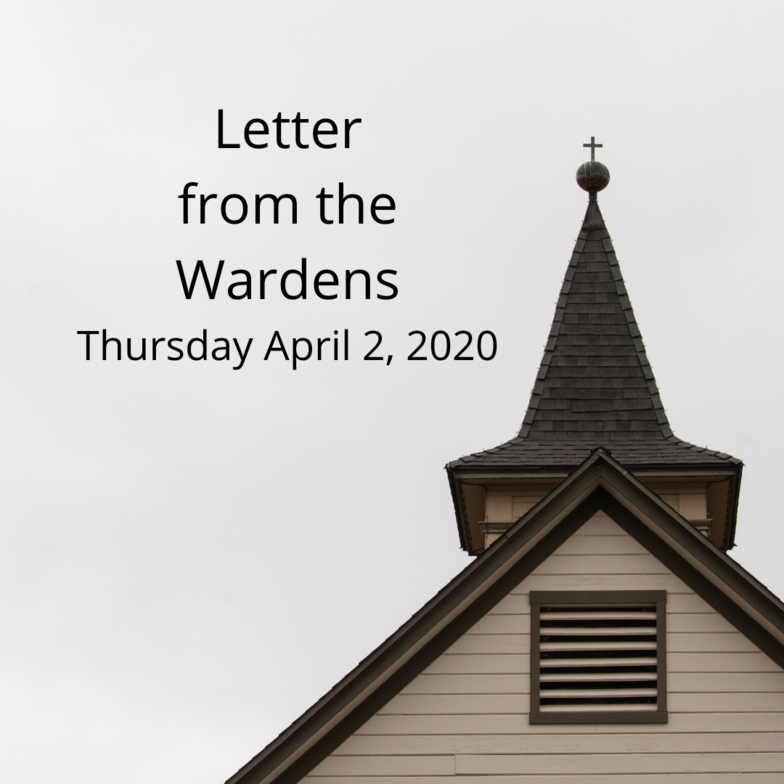 Dear People of Ascension,
As the Covid-19 pandemic continues to unfold, we have been busy with a number of things to do with the church. Our first priority is the care and comfort of those in our community who are impacted by what is unfolding, and that means all of us. We are heartened by the response within our own community - people reaching out by phone, offering to pick up groceries and the spirit of prayer that is being shared. Thank you.
As the corporation it is our job to oversee the financial and physical aspects of our church. We want to update you on what is happening in these areas.
The Diocese of Toronto informed us late last week that they are offering a "Jubilee" to parishes. This is a biblical term that refers to a time when certain requirements are lightened, debts forgiven. The implication for our parish is this: the diocese will pay our incumbent's salary for the months of April and May (this includes stipend, housing and benefits); the diocese will not ask us to pay our allotment for these same months. The Diocese of Toronto anticipates this offering to the wider church to cost them about $3.6 million. They are covering this cost through a variety of initiatives. You can hear the Diocesan Bishop speak to this here:
Bishop Andrew's Address to the Diocese
We are incredibly grateful for this help from our diocese.
We have made arrangements with Liz, our music director, and Shirley, our office administrator to be laid off during this time, as there is no work for them to do. Each of them are pursuing the aid that has been offered through the government. Deb Eden, who looks after cleaning the church, will return to cleaning the church as needed and when it is safe. Our curate Rev. Phil is paid through a diocesan grant and through monies set aside from the St. John Blackstock sale. We want to be sure that we care for our staff, even as our resources may be limited for a time.
Along with these staffing measures we have turned the heat down and unplugged appliances we are not using. As things stand at the moment, our expenditures are not greater than our income. However, this situation will not last forever.
As our Prime Minister often says during his daily briefings, nothing is off the table. We will reevaluate our needs each month as things unfold. At this stage, we do not know when we will be permitted to gather together again.
We encourage you to continue to give to the church according to your abilities. We are aware that the pandemic has impacted the economy greatly and our individual lives. Some are out of work, some have grave concerns about investments. There are many charities doing good work right now and we want to support them as well (like the local food bank, North House, researchers and global agencies helping the most vulnerable). We will, throughout this time, inform you of the financial situation of the church. We will inform you of ways you can give if you are not currently on PAG (see below). We invite you to prayerfully consider where and how to share the resources you have. And we offer you our gratitude for your generosity of spirit as well as resources.
Thank you to those of you who responded to the warden's request for suggestions. Each suggestion was discussed by the clergy and wardens and addressed. Though we may not gather face to face, we still very much need the input of everyone through this time. If you have an idea that you think might be useful, please communicate it to a warden or the clergy.
As we met virtually yesterday, we also prayed. We prayed for all of you, our community. We prayed for those who are offering care right now. And we prayed for wisdom and compassion as we do our best to serve Jesus Christ in these unprecedented times.
Sincerely,
Your Wardens: Anne Paré,Glynnice Avery, Gillian Daly, John Moon
Your Clergy: Ruthanne Ward, Phil Gearing
Your Treasurer: Susan Tremayne-Moon
Ways you can offer financial support to the church.
1. Sign up for Pre-Authorized Givings (PAG). Let us know (a warden, the envelop secretary or the clergy) and we will mail you a form.
2. Give through Cananda Helps. This site is used by over 20,000 Canadian Charities, including many Anglican churches and the Primate's World Relief and Development Fund. It is safe, secure and very convenient. You are directly receipted through CanandaHelps, not the church. You can go to our donation page by following this link:
3. Write a cheque and mail it to the church. If you have an envelop number and know it, please make note of it on your cheque.
266 North Street, Port Perry, ON L9L 1B7