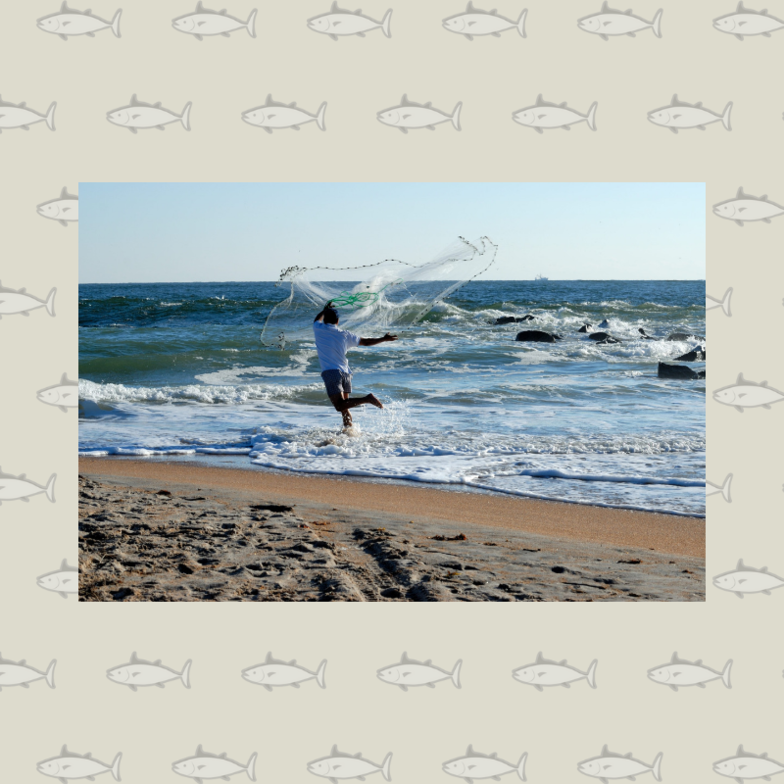 Empty Nets
This past Sunday, Epiphany 5, we heard the gospel read from Luke 5. As the story goes, after a long night of fruitless (or fish-less) fishing, Simon Peter is cleaning up his nets, thinking about food and sleep when Jesus commandeers his boat. After speaking to the crowds, Jesus tells Peter to go fishing, again. I mentioned in my sermon, that Simon Peter must have thought this was ridiculous - because it was. And yet, the result is a ridiculous abundance of fish and, for Simon Peter, the deeper understanding that Jesus is the Messiah.
I alluded to the experience of looking at our budget for the next year, knowing we have a rather large deficit and are projecting for a deficit next year (not as large, thankfully). Feels a little bit like fishing and pulling up empty nets. What do we do, as a church, when the congregation is giving generously, when we are working hard and trying to cut costs wherever we can? What do we do when the reality is we have aging buildings, no longer sustainable expectations of what ministry should look like, and fewer resources to deal with those realities and expectations? We are not alone in this! But that doesn't make it any easier. And it is our fishing enterprise that we need to be concerned about.
What does it mean for us to be faithful stewards? As was discussed at our financial town hall this past weekend (Saturday February 9th), addressing these issues will take time and we are looking at strategic conversations over the next 3 to 5 years. That said, we need to take action NOW.
Here is what we are proposing and looking at in the short term, as we strategize (together!) for the long term.
Buildings
In the February issue of The Anglican, our diocesan newspaper, Peter Misiaszek (director of Stewardship Development for the diocese) wrote an excellent article about how we use our buildings. I encourage you to read it!
You can find it here: https://www.toronto.anglican.ca/about-the-diocese/news/the-anglican-newspaper/
Go to page 5 and see the article entitled, "Let's reimagine how we use God's house".
This is exactly what we need to do. For our church building is a valuable resource - both in terms of offering ministry to the community at large (something this church did beautifully during the Soup's On time), and as a resource that can help us financially support the ministries we are called to.
A group of people who are interested and concerned with this particular aspect of our stewardship is already forming. Whether it is marketing, thinking of creative uses of space, knowing how we might cut costs - these various inputs are important. Please consider, if this is your passion or interest, being involved.
Day to Day Expenses
Since our meeting this past Saturday, I've already heard a few great ideas for how we can cut our day to day costs. It will mean a bit of change for some of us, but nothing really dramatic. And hopefully these small steps can lead to bigger steps.
These ideas include:- printing fewer bulletins each Sunday and having people share- only printing some hard copies of the Vestry Report and having other available digitally (you would have to bring your tablet to the meeting!)- not plowing out the small back parking lot, but just shovelling a pathway to the back door- putting a basket out at coffee hour for donations of loonies and twoonies so that coffee costs are covered- not moving forward with capital expenses (like a new sound system) until we have the funds in the bank.
Good, Old-Fashioned Stewardship
It was agreed, during our conversations on Saturday, that we need to be better with communicating the needs of the church and where we are at financially.
Right now we are running a monthly deficit (that is the difference between what we have coming in on the offering plate, through pre-authorized giving and fundraising AND operating expenses) of about $2300.
To cover this cost overrun, based on an average of about 65 people attending our services each week, it would look like this in increased givings:
Each person gave $9/week more.
However, we know that many are giving out of a fixed income, and are giving generously.
We can also break down the amounts in this way, for the same amount:
5 people gave $20/ week more + 10 people gave $15/ week more + 25 people gave $10/ week more + 30 people gave $5/ week more.
Many churches recognize that traditional stewardship is not the answer to the changing economy of the church - at least not primarily as it once was. It is still a part of the whole picture - and we will continue to bring these stewardship possibilities to the larger congregation.
When it is hard to believe
Money has never been an easy or comfortable topic in the church. But talk about it we must! Let us collectively put our heads together and find ways to honour the resources we have as we try to match them up to the call of ministry that has been placed upon us. It will mean some sacrifice (Simon Peter was exhausted, and likely didn't want to go fishing) but it will also likely mean some surprises (so many fish the boats started to sink). Let us throw out our empty nets once again, in faith.